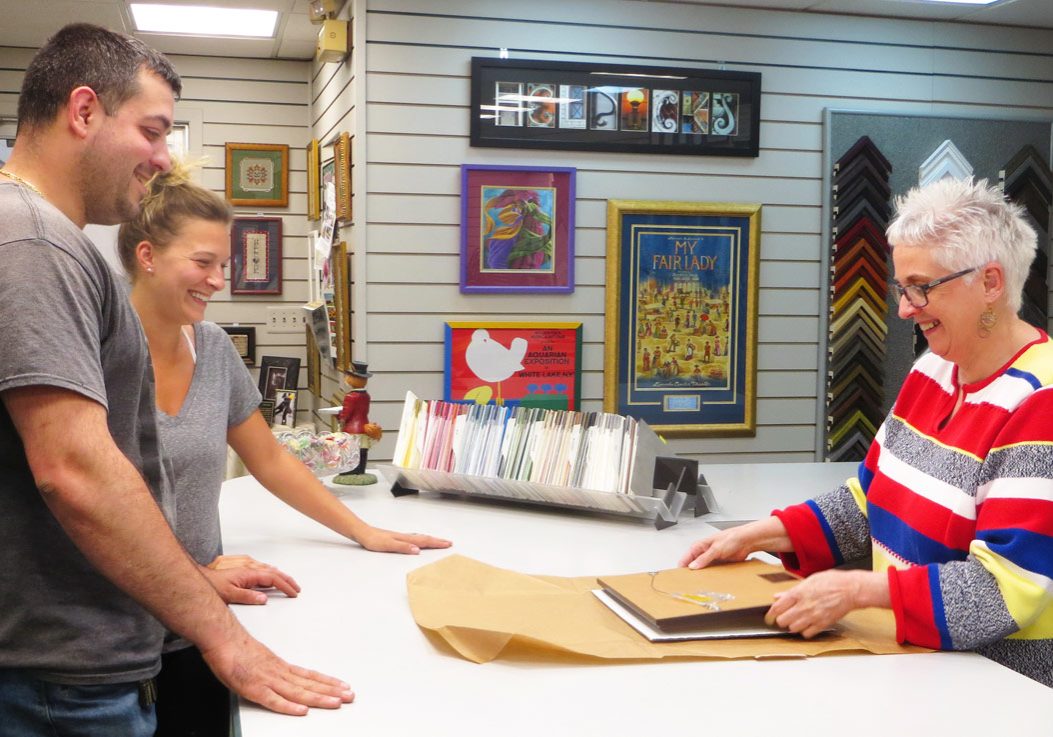 What our Customers are saying about us...
"This was the best customer service that I've had in a very long time. Personalized service,  attention to detail, honesty and professionalism are a few words to describe my outstanding experience."     Pat
"Great job! Thank you for holding my project for a couple of weeks so I could surprise my wife."     Mike
"Reasonable prices! Patient service!"     MP
"The best framing store around! The employees are knowledgeable and offer great advice!"     Rick
"Thank you for taking such good care of something so important to us! You have made the needlepoint even more beautiful! I have decided to give it to my husband on his mother's birth date. I know he will love it! Many, many thanks to everyone at Helrick's."     Pamela
"Thank you so very much for the beautiful framing and matting for my 'Friends are Treasures' Piece!! The color for the mat was a wonderful compliment. I truly appreciate the love and care you put into the pieces you've done for me!"     Barb
"I can not tell you all how much I appreciate the job you all did with my friend's Winter Fairy [cross-stitch]. The kindness you showed, and speed with which you accomplished the job was above and beyond...Thank you all - yours is indeed a very special shop."     Denise
"We absolutely love the Collage... it makes me happy each time I walk by it in the living room. Everyone who sees it asks where we had it framed, and of course, we tell them! "   Cathy
"I cannot express how flabbergasted I feel after seeing the incredible job you did framing my stitching and picture.  Cheryl, you are a true artist and I thank you from the bottom of my heart for the love you put into your work. I love the way you cut the mat on the Weeping Violets piece stitched in memory of my Mom. You sure make all my stitching look a lot better than it is, all fancied-up!"     VC
"Thanks for doing a great job!"     Kathy
"Thank you to everyone involved in creating such a beautiful frame and mats for my Halloween piece!  As always, you always impress me with how well the colors are combined to show off my cross-stitch pieces perfectly!"     Barbara 
"Just wanted to say Thank You again for the absolutely beautiful framing and matting on the 2 cross-stitch projects!  We are just in awe of how wonderful the wedding piece came out - it's truly spectacular! Just stunning!"     Cindy
"Only buying one photo matt, but Anne took the time to help us match the print to the right color matt. Thanks"     Steve
"Was good to see that the same ladies were working there. They are very good at what they do."     Mary 
"Always wonderful and helpful staff. Everything we have had done at Helrick's is of the best quality. The ladies take good care of your needlework and other items that need to be framed. "     S and L
"So happy to have finally found a great framer!"     Karen 
"I feel very comfortable coming to Helrick's and getting the help and attention I need. Employees are friendly and helpful. Thank you."     Harriet
"You guys (ladies) did a great job! Thanks again!!     Chas
"Just wanted to thank you for the excellent job you did for us just before you had to close (for the Covid-19 virus) and just after! You found frames that matched other pictures we had and got them back to us faster than we expected. Our new family room is going to look ten times better than we planned!"     Al and Fran
"Thank you, thank you, thank you!! The framed painting looks beautiful!"     Karen
"Wonderfully professional, personable and helpful...I see why all the ladies in my art class give you a 5 star rating!"     Susan
Your Smiles Make Us Smile!